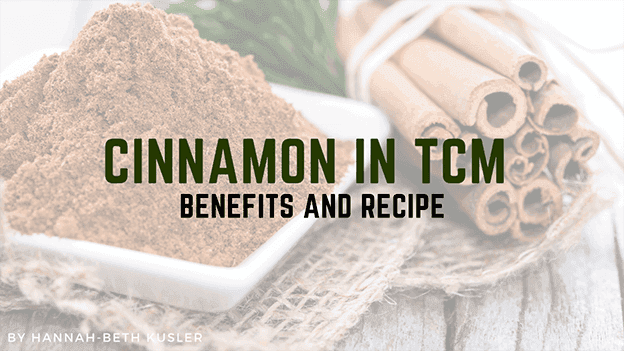 Cinnamon (cinnamomum zeylanicum) in Traditional Chinese Medicine (TCM) & Its Usage in Acupuncture Clinic
Did you know there are two main varieties of cinnamon we see in North America? Cinnamomum zeylanicum, also known as ceylon 'true' cinnamon and cinnamomum cassia, sometimes called saigon or cassia cinnamon. Ceylon cinnamon is more herbal, not super sweet in flavor where cassia cinnamon is pretty sweet and not super spicy. Cinnamon is another of our familiar culinary herbs that has many medicinal uses – read on to discover its magical properties.
Cinnamon Benefits
In Traditional Chinese Medicine (TCM), we know it as Rou Gui. Cinnamon is harvested from the inner bark of trees which belong to the Laurel family of evergreen trees. It has been used since ancient times for preserving food, dispelling sickness and flavoring cooking. The volatile oils found in its essential oil are used in sacred oil blends and incense. It was often burned in sick rooms to aid in recovery. Many Acupuncture Doctor or TCM Practitioner use it for warming the whole body, strengthening yang, easing pain, nourishing qi and blood. It supports the kidneys, aiding and easing signs of early aging. Cinnamon can warm and support the spleen, aiding in digestion and helping to support healthy blood sugar levels.
From a western perspective – it is an excellent antifungal, antibacterial, antiviral; it can help ease pain and lower blood pressure. It relaxes smooth muscles and warms the intestinal tract – supporting digestive function and easing inflammation. Cinnamon can be a great support for regulating blood sugar levels in diabetics and pre-diabetics. When combined with ginger (sheng jiang), it is lovely to ease morning sickness, vomiting, bloating, diarrhea and constipation.
Use caution in conditions that may be exacerbated by GI stimulation – acid reflux, gastritis, liver/gallbladder obstruction, etc. Although some practitioners advise taking the essential oil internally, I do not advocate for that – essential oils are extremely concentrated and should only be used externally once diluted. This is a very powerful herb with many incredible actions to support our body, it should be respected as such. Always consult your Acupuncturist or TCM practitioner/herbalist before introducing a new herb to ensure it is right for you.
How to incorporate it?
Cinnamon is lovely in most dishes – I love adding it to my stewed fruit or grain bowls in the mornings. It is a lovely warming addition to smoothies, along with ginger. Obviously, it works great in baking and can be used to enhance sweetness without adding additional sugar. It also can help balance many savory dishes such as chilis, stews, stir frys and root vegetable bakes. As it is very warming for your body, especially for your digestive system, it can be a lovely addition to your winter meals to add some extra heat without spice. Here is one of my favorites to create on a cool day.
Eggplant Stew
1 eggplant, shredded
1 onion, diced
1 leek, diced
1 red pepper, diced
2 carrots, diced
3-4 garlic cloves, grated
1t each – smoked paprika, oregano, coriander, turmeric, cinnamon
1/2t black pepper
salt to taste
4 roma tomatoes, chopped
½ cup black olives, diced
optional: 2 bay leaves, 1 cinnamon stick
Begin by preparing all your veggies. Heat about 2 tablespoons of oil in a large pot over medium heat. Once your oil is hot, sauté the onion, leek, red pepper, carrots and garlic for 3-4 minutes. You can add in some water if things start to stick to the bottom of the pot. Next, add in all the spices and season to taste with salt. Allow everything to cook together for a minute or so until it is fragrant. Then add in the tomatoes and bay leaves/cinnamon stick if you are using. Add in any water necessary to make it 'stewy' and allow it to simmer for 20-30 minutes. At in the olives at the end and allow to sit, covered for about 10 minutes before serving. I enjoy this alongside rice, greens, topped with fresh tomatoes, cilantro, black sesame seeds and green onions. Enjoy it as you please!
Talk to one of our Acupuncture and TCM Practitioners at CITCM Acupuncture Clinic in Calgary to find out more how Acupuncture and Chinese Medicine can help improve your health overall!
Call us at (403) 520 – 5258 or book online here!
————————–
References
Cinnamomum zeyanicum. Sarah Earm. The Naturopathic Herbalist. 2015. [cited May 18, 2022]
Cinnamon (Rou Gui). White Rabbit Institute of Healing. 2014. [cited May 18, 2022]