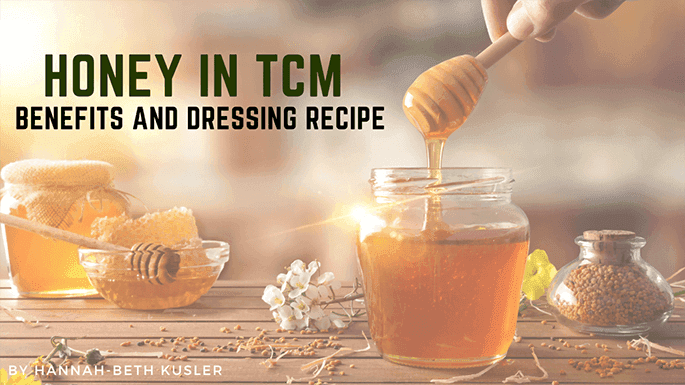 Honey (Feng Mi) in Chinese Medicine
Honey is a very well-known herbal all over the world. It is known to uplift the spirits and nourish the soul. It is often used to bind herbs together, sweeten the taste of bitter herbs or taken on its own to help lubricate and moisten. It is a very versatile and palatable herb that can be incorporated in a number of ways. In acupuncture and Chinese medicine, Honey has a neutral nature which means it won't affect the balance of yin / yang and is safe for all body constitutions to consume. Read on to discover its medicinal properties in both western perspective and acupuncture and Chinese medicine!
Benefits of Honey
In Chinese medicine prescription, Acupuncture or TCM Doctors commonly prescribe honey into its herbal formula as it can help replenish qi, blood and yin. It is very hydrating, helps to clear toxins and relieve pain. Due to its lubricating nature, it supports endurance and healthy muscles. Its moistening action can soothe sore throats, coughs, support healthy immune functioning and help eliminate congestion. It can also prevent constipation, aid digestion, nourish the whole body, promote sleep and heart health. Topically, honey is great for healing sores, burns and wounds as it has antibacterial properties that can prevent infections. It is also anti-inflammatory which can reduce pain, swelling and and even help scarring.
From a western perspective, honey has a potential therapeutic role in helping diabetes mellitus, respiratory/gastrointestinal/cardiovascular/nervous systems and is useful in cancer treatment because of its antioxidant characteristic. Honey's antibacterial, anti-inflammatory, antioxidant and apoptotic properties make it a great addition for the management of many diseases.
How to incorporate more honey?
Honey can be included as simply or complex as you desire. It can be taken by the spoonful in the morning, added into your warm drinks, drizzled on oatmeal bowls or toast. It can also be added to sauces, dressings, soups, stews, curries. You can toss your vegetables or meats in a honey-type marinade and bake them in the oven. The possibilities are endless! Raw, unpasteurized honey is the most medicinally loaded variety you can get. Local honey is preferred as it contains all the pollen from your area – helping support your immunity and boost your systems if you experience allergies to your environment. I enjoy making this honey-herb dressing and pouring it over my veggie & grain bowls, salads and roasted vegetables! I use whatever herbs I have an abundance of, some of my favorites are dill, chives, cilantro and parsley.
Honey Herb Dressing
¼ cup fresh lemon juice (about 2 lemons juiced)
2 tablespoons fresh herbs, chopped
2 tablespoons honey
¾ cup extra-virgin olive oil
salt & pepper, to taste
Whisk the lemon juice, herbs, honey and a good pinch of salt together. Slowly drizzle in the olive oil and continue to whisk, the dressing will become thicker and creamy. Season with pepper to your preference.
Talk to one of our Acupuncture and TCM Practitioners at CITCM Acupuncture Clinic in Calgary to find out more how Acupuncture and Chinese Medicine can help improve your health overall!
Call us at (403) 520 – 5258 or book online here!